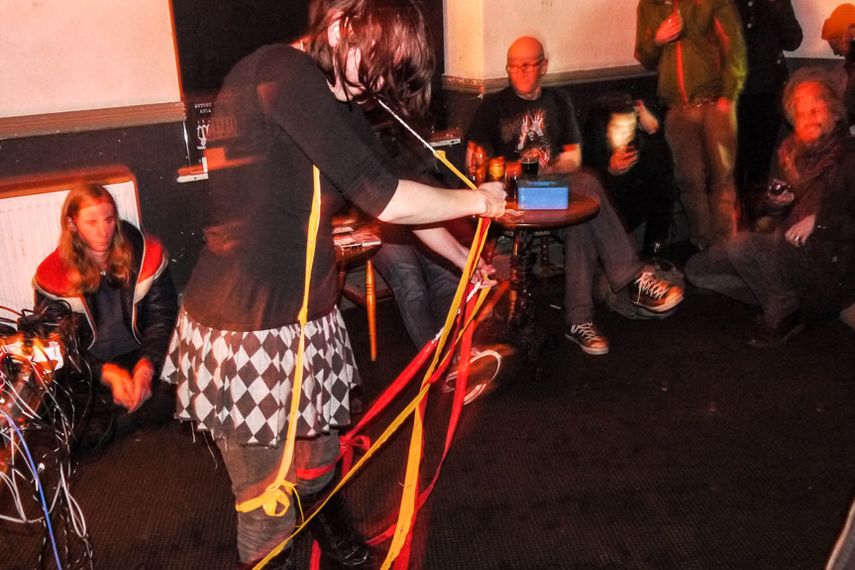 Phantom Chips (AU/UK)
Tara Pattenden aka Phantom Chips is an Australia born noise-performer who makes wearable synthesizers that can be stretched and squeezed to create sound. Her homemade 'lectronix squeals create bent charm and harsh mangled tones through tactile electronics. Concocting rhythms from an array of homemade electronic instruments, samplers and wearable noisemakers Phantom Chips breaks the audience-performer paradigm by getting the audience to 'kit-up' in her handmade electronics and costume hybrid creations noise making creations.
Based in Glasgow Phantom Chips fleshes out her love for electronics, noise performance and soft circuitry by making and selling synthesisers Noisy Bstrd and the Lerango Drone to the noise and experimental sound arts communities. She has been making noise and mess for almost 20 years performing internationally as a solo artist and in bands such as Monster Zoku Onsomb and Kunt. Currently she is a member of Goodiepal and Pals and the FCKN BSTRDS.
Published on 28 Jul 2017