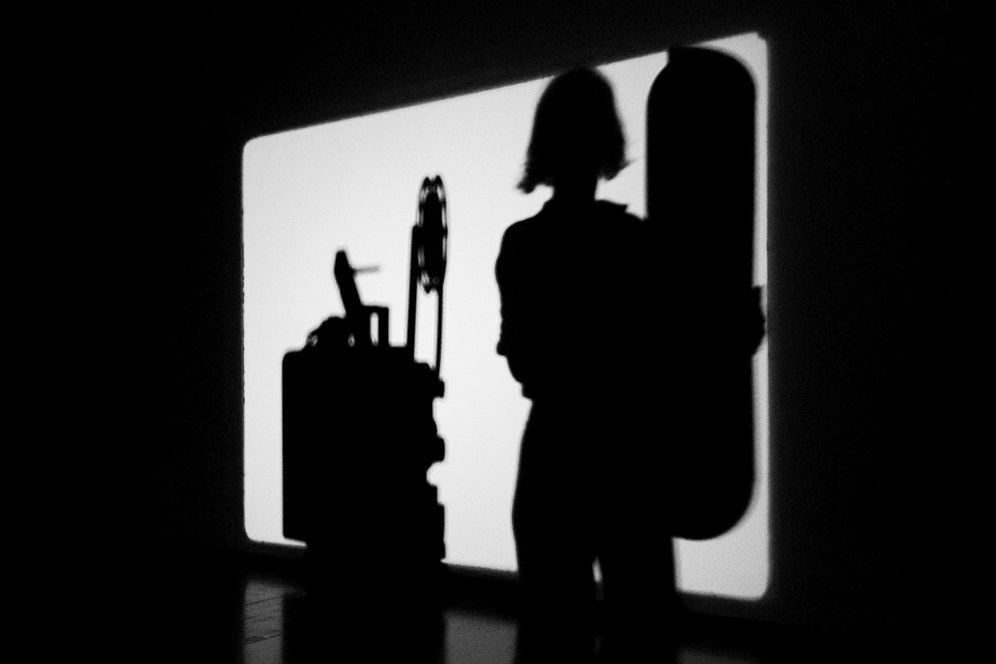 Narrativize
Saturday 30th September
7pm
Close-Up Film Centre
97 Sclater St, Shoreditch, E1 6HR, London Venue info
An evening of live film, digital art and performative actions exploring de/construction of narrative. Featuring Against Cinema by James Holcombe & Secluded Bronte (UK), 30/09/2017 Close-Up Cinema, London by Esperanza Collado (ES), Owed to Bussa and Owed to Asylum by Foxy Moron (UK), and abcdefghijklmnopqrstuvwxyz by Jörg Piringer (AT). Plus artist Q+As hosted by The Wire magazine's Emily Bick, and a DJ set from The Wire's Gustave Evrard.
James Holcombe and Secluded Bronte (Richard Thomas, Jonathan Bohman and Adam Bohman) present Against Cinema - an unfolding 16mm artists' film, improvised music and broken narrative project - which abstracts and dramatises moments derived from the use of an optical sound camera. James combines a deep material engagement with experimentations in photochemical film processes with chance outcomes possible through expanded projection and improvisation across both sound and image to elicit raw kinetic film energy through expanded cinema and paracinema performances. As Secluded Bronte, Richard Thomas, Jonathan Bohman and Adam Bohman have produced numerous radio works in Europe and the United States. Jonathan and Adam Bohman have been writing, recording and performing experimental music as The Bohman Brothers since 1975. Adam Bohman is also a member of Morphogenesis and The London Improvisers Orchestra and an active solo performer. Richard Thomas has been active as a composer, performer, broadcaster and writer since the late 1980s, and between 2003 and 2013 Thomas was the commissioning editor at Resonance 104.4FM, and continues to be an active solo performer, occasional concert producer and regular contributor to The Wire Magazine and other publications.
Esperanza Collado is an artist-researcher whose work explores the philosophical vocation of cinema often through non-filmic forms. Her book Paracinema: la desmaterialización del cine en las prácticas artísticas (recipient of the Spanish prize 'Escritos sobre arte') offers a critical and historical insight around a possible 'a-disciplinary' cinematographic practice. Her acclaimed performance-environment We Only Guarantee the Dinosaurs was described by experimental filmmaker Jodie Mack as "a carefully constructed choreography… through an earnest investigation of the essence of cinema (pre-, present, post-) and its possibilities. The future of a thriving cinema(rt) relies upon efforts like [this]".
Foxy Moron is Hannah Catherine Jones, a London-based artist, researcher, radio presenter, composer and conductor, and founder of Peckham Chamber Orchestra. Jones often performs under the pseudonym Foxy Moron, creating works that juxtapose ancient musical modalities (Mixolydian, Phrygian) with sci-fi timbres to produce what she calls 'sonic antagonisms'. These 'sounds in opposition' are a vehicle for the artist to think through both the painful legacies of slavery and its continuing affects and effect, and also the conceptual possibilities of Afrofuturism – re-imagining the past whilst simultaneously looking towards the future.
Jörg Piringer is a media artist, musician, software programmer and poet who weaves complex ontological narratives, emerging from the building blocks of single letters, computer code and expressions of his own voice. abcdefghijklmnopqrstuvwxyz is an abstract audiovisual poetry performance whereby image and sound are created immediately during the performance by speaking and vocalising into a microphone and modifying the voice through signal processors and samplers, while the software is analysing the sound to create animated abstract visual text-compositions.
Image: Esperanza Collado, photo by Érik Bullot
Published on 29 Jul 2017