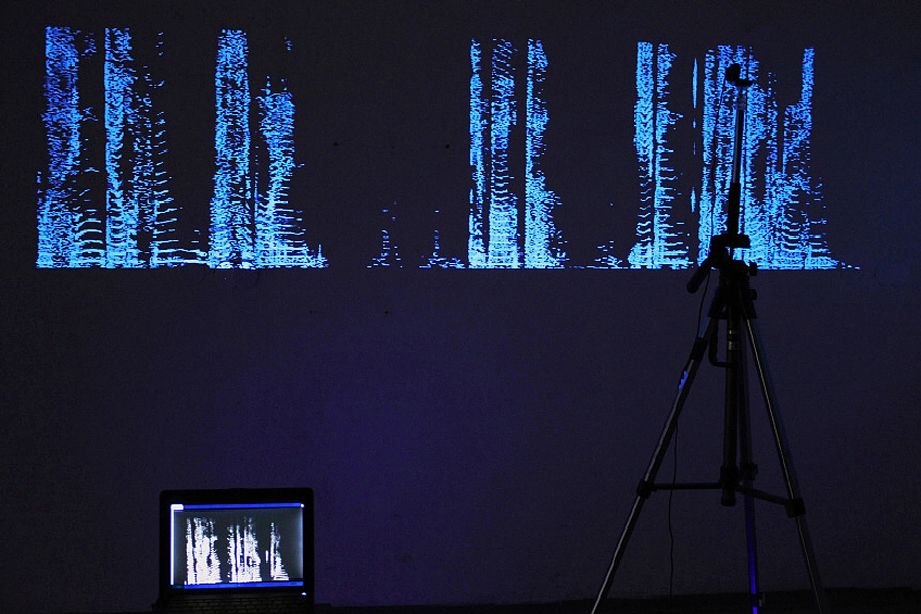 Ulla Rauter (AT)
Ulla Rauter is a new media artist and musician working at the intersection between sound and fine art, performative sculptures, music performances and self-built instruments. Ulla's works are transfigurative interpretations articulating her interest in making and programming new technologies - outputted as wearable instruments and unexpected instrument-digital-human interfaces.
Ulla studied Transmedia Art at the University of Applied Arts in Vienna, and received the Ö1 talent scholarship prize (2008), a working scholarship from the Austrian Federal Ministry for Science and Research (2009), and a start-up scholarship from the Austrian Federal Ministry for Education, Arts and Culture (2011). In 2010 she and artist Christine Schörkhuber founded the annual sound-art show Sound Manifestosin Vienna. Since 2013 Ulla lectures at the University of Applied Arts in the department of Digital Art. She has presented her work at Digital Synesthesia (Vienna & Hong Kong), Vienna Contemporary, Mario Mauroner Contemporary Art (Vienna), Unsafe & Sounds Festival (Vienna), Proekt Fabrika (Moscow), Nordic Artists' Centre (Norway), Earzoom Festival (Ljubljana), Art, Science and Society 12th Biennial Conference (Vienna), Ars Electronica (Linz), Museum of New Art (Detroit), Museum der Moderne (Salzburg), International Open Air Festival of Sculptures (Prague), and the Austrian Museum of Applied and Contemporary Arts (Vienna).
Ulla presents a new version of her installation Sound Drawings which combines her approach to the performance Sound Calligraphy, using the sonification of drawings to reflect on speech recognition to draw her ideas back to the 'disembodied technologist'. Employing spectrograms - the 'vocal fingerprints' of a person - either directly onto the wall or via mounted specialised plates - audio recordings of voices appear on the walls of of the gallery forming a ritualistic space, turning its surfaces into an archive for voices - and therefore extensions of the body. Under these certain conditions - a camera, UV lights and custom software - the spoken words are released again and the visual voices becoming audible once more.
Sound Calligraphy | "Drawing a human voice" from Ulla Rauter on Vimeo.
Published on 27 Jul 2017