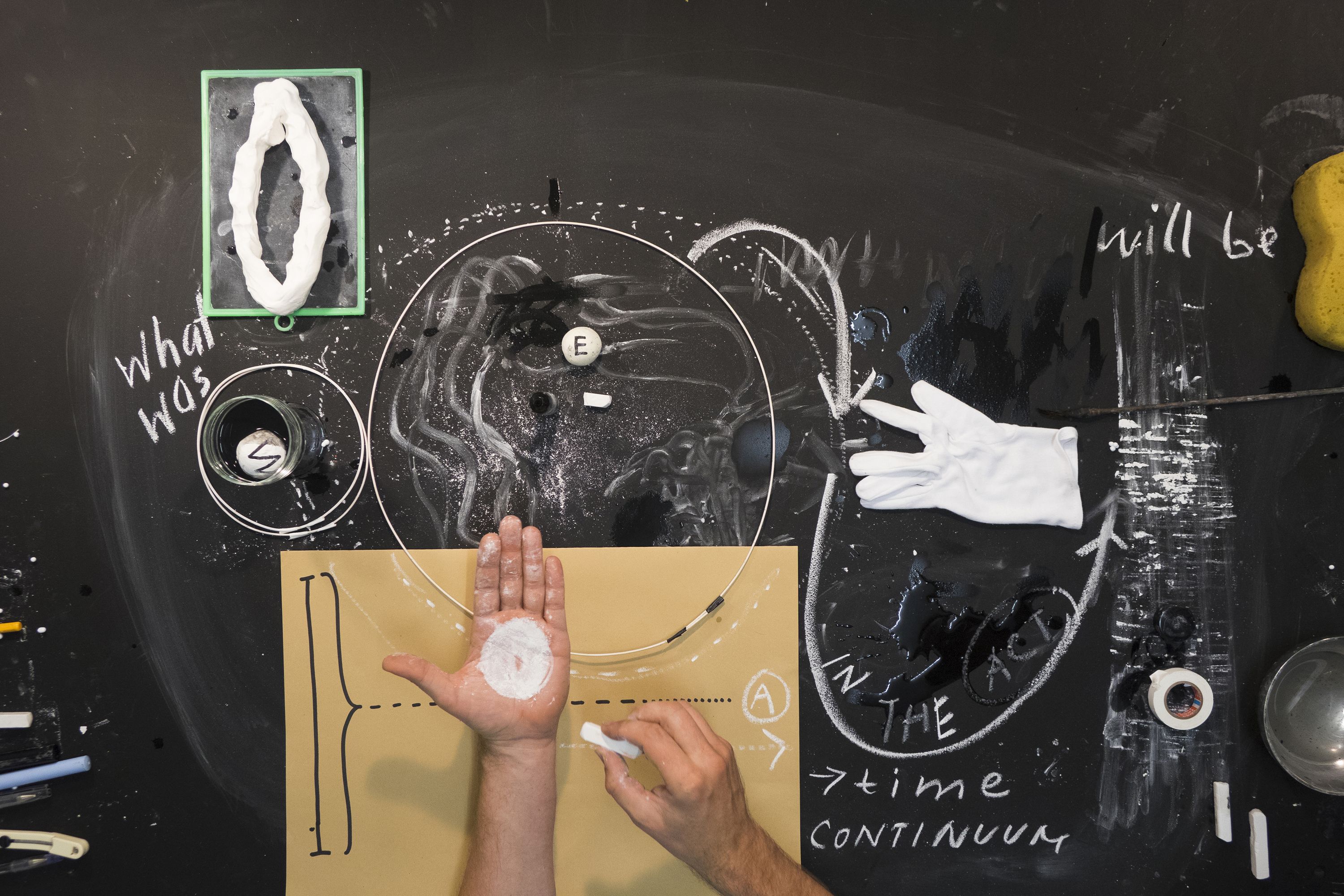 Nikolaus Gansterer (AT) & Khadija von Zinnenburg Carroll (AU/UK)
Live Performance to accompany the exhibition Emotion + the Tech(no)body, Friday 10 November, 7pm
The Restitution of Complexity, 2017
10 parts, 40 mins
Pen & ink, diagrams, paper, charcoal, paint, various objects, Mictlāntēcutli, leg rattles, flashlight, feather, sound, photographs, glass box, Quetzalcoatl, archives and the unconscious
In collaboration with sound artist and musicologist Christopher Haworth.
The Restitution of Complexity is a new performance by Khadija von Zinnenburg Carroll & Nikolaus Gansterer of live drawing, storytelling and sound that explores the body as archive. Improvising a state of constantly becoming something else, in collaboration, Carroll and Gansterer show the unconscious archives of Austria's Stockholm Syndrome about its brief colony in Mexico, which ended with the assassination of Maximillian. A live video feed turns the sculptural accumulations that trace a delirious ficto-criticism into two dimensional projections. Made especially for the Austrian Cultural Forum, there are cameo appearances by Freud in Mexico, dreaming the demise of the empire. The Restitution of Complexity is based on a book about the return of the many complex agents who make up history, a history of humans' relationships to objects and their restitution after conquest.
Nikolaus Gansterer's Translectures are translations of thought experiments into performative actions which invite the audience to understand and interpret 'one reality through another'. An inter-subjective form of notation which through action creates a new vocabulary, Translectures sit between the lines of drawing, choreography and performance. Considered by the artist as 'live research', the performances bring into question how far a drawing – for Nikolaus a medium of high immediacy – can become tool of communication, a score, and again an instruction for taking action. Often working in collaboration with writers, philosophers, thinkers, poets, theoreticians (TJ's as 'theory-jockeys') – Nikolaus explores how a thought can be extended along the categories of time, space and movement. Nikolaus completed post-academic studies at the Jan van Eyck Academie, Maastricht in The Netherlands, and previously undertook a MA in Visual Arts, Transmedia Art, at the University of Applied Arts in Vienna, as well as Sculpture Studies at the Hochschule für Angewandte Kunst, Vienna, and Anthropology studies at the University of Vienna. He has been Guest Professor at the Center Research Focus, University of Applied Arts Vienna; Guest Lecturer at the University of Applied Arts, Vienna; and is a founding member of the Institute for Transacoustic Research, Vienna.
Khadija von Zinnenburg Carroll uses experimental writing and her voice to represent the politically marginalized. Telling histories in embodied, dramatic, and poetic texts that emphasize affect and imagery as a form of evidence and process of repair, Khadija is an Austrian-Australian artist and historian based in the UK who studied Art in both Vienna and Melbourne before going on to obtain an MA and PhD from Harvard University. Her installations and texts have been exhibited at the Venice Biennale, Marrakech Biennale, Kranich Museum, MAA Cambridge, and will be in the Sehnsucht exhibition during Frieze 2017. Her films have been screened at Film Festivals in Casablanca, Berwick, Melbourne, Tallinn, as well as programs at LUX, Chisenhale, Calvert22, Space, UrbanLab, Project Space Dublin, Irish Film Institute, and the National Museum of Australia. She has had performances commissioned by the Institute of Contemporary Art London, Pesta Bonka Festival Indonesia, and Konzerttheatre Bern. Khadija is the author of the books Art in the Time of Colony; Botanical Drift; and The Importance of Being Anachronistic, and related exhibitions include Ore Black Ore in the Allegory of the Cave Painting at Extracity Kunsthal Antwerp; Investigated at Savvy Contemporary Berlin; Artists in Residence at the Pitt Rivers, Oxford; Embassy Embassy at Haus der Kulturen der Welt and Homebase V, Berlin. She is currently working on a book entitled Fragile Crown: Empire, Collection, Restoration.
The Restitution of Complexity from Khadija von Zinnenburg Carroll on Vimeo.
Nikolaus Gansterer - Translecture
Khadija von Zinnenburg Carroll
Published on 27 Jul 2017